Marseille Soap Sweet Almond 4x100g
Pure Marseille Soap (*)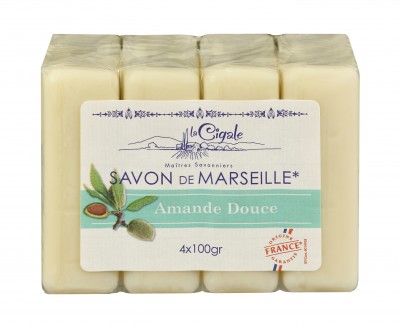 Enriched with Sweet Almond Oil and delicately scented with a pleasant and comforting fragrance, this Marseille soap brings softness to your skin day after day.
This soap is entirely manufactured in our workshops by our Master Soapmakers, who are repositories of two centuries of know-how.
Formula tested under the supervision of a dermatologist.
Not tested on animals.
This soap is readily biodegradable.
Packaging : 4x100g.
Individually packed for better conservation.
Directions for use : Apply directly on the wet skin or on a wash glove. Gently massage and lather. Carefully rinse with clear water.
To use in the 18 months after opening.
Precautions for use : In case of contact with eyes, rinse thoroughly with clear water.
(*) Made through saponification by combining caustic soda and a fatty substance according to the historical Marseille Method / ASDMF code – www.savondemarseillefrance.fr.