Shaving Soap 150g
Formulated with Organic Aloe Vera (*) preservative-free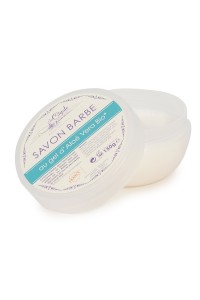 Enriched with Glycerin and Organic Aloe Vera Gel, this shaving soap preserves the moisturization of your skin all day long. We added to our mixture a 100% organic lavender slight note, allowing you to use your favourite eau de toilette.
This product is entirely manufactured in our workshops by our Master Soapmakers, obtained by saponifying fatty acids with a traditional mixture of lye and potash.
Formula tested under the supervision of a dermatologist.
Not tested on animals.
This soap is readily biodegradable.
Packaging : sealable bowl with screw-on lid 150g.
Directions for use : Lightly wet your face with warm water. Wet the shaving brush with lukewarm water and swirl it around on the shaving soap.
Lather the cream onto your face using a circular motion throughout your beard.
Shave slowly and rinse your face with lukewarm water.
Rinse thoroughly the shaving brush, flick it or wipe it gently to remove remaining water.
To use in the 18 months after opening.
Precautions for use : Tightly close the bowl after each use to avoid soap dryness.
In case of contact with eyes, rinse thoroughly with clear water.
(*) Aloe Vera Gel from Organic Farming.